Metal Drumming Mastery sits down with Derelict's Jordan Perry!
I'm pleased to introduce you to Jordan Perry, from Montreal's Derelict. This band is awesome, so if you haven't heard them already, definitely check them out! We're actually going to be featuring Jordan on the Metal Drumming Mastery site for some lessons, too!
Jordan, thanks for taking the time to sit down with us! I want to ask you about the new Derelict album, but first tell us a little about you and your drumming. How long have you been playing?
Roughly 17 years.
Did you take lessons? How long?
I taught myself for about the first 9 years of playing, then I took lessons for a bit under a year. It really helped my control and overall proficiency. Since then I've taken a few lessons here and there, but nothing full time.
How much do you practice every day/week?
Lately it's between 6 and 12 hours/week.
Who is/are your fav/most influential drummer(s)?
Benny Greb, Buddy Rich and Phil Collins. Oddly enough, these guys have influenced my playing more than any metal drummers have.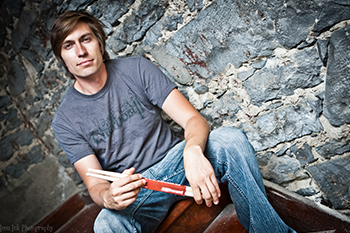 How has YouTube affected how you promote yourself as a drummer?
A lot. Many of my videos come up on the first page of certain search results, so many people are finding them without necessarily knowing Derelict at all.
Any tips for aspiring drummers on how you developed some of your technique for double kick speed and doing blast beats?
Take it slow! Building speed can't be forced; you'll end up hurting yourself. Use a metronome and start at a slightly faster than comfortable tempo (after warming up of course). Once it becomes comfortable, keep upping the tempo by 5-10 BPM. It takes time but it's totally worth it. Not only will you be able to play at high speeds, but you'll also be able to sustain that tempo for long periods of time without getting tired.
What kind of pedals do you use?
Pearl Eliminators: belt drive model.
Sticks?
Wincent 5B Hickory (www.wincent.se)
What is currently on your iPod and constantly playing?
I manically switch from metal to female fronted pop music on an almost daily basis. Right now I'm flipping between Threat Signal, Gorod, Metric, Lana Del Rey and Elsiane. Some artists that make a constant appearance are Austra, Omnium Gatherum and Unleash the Archers (female fronted AND metal!).
What is the best way to pass time on the road?
Swimming! If possible of course. Otherwise, listening to music, talking shit with the guys and exploring the part of the world you're lucky enough to be in.
Favorite TV Show?
Breaking Bad, It's Always Sunny in Philadelphia, Eastbound and Down, Star Trek TNG…
Favorite movie you've recently seen?
I just watched Wanderlust. So dumb, but hilarious. It's worth it for the mirror scene.
Favorite book or comic you're currently reading?
Uh well I read a lot of work related emails…does that count?
Favorite spot to eat on the road?
I will first tell you my least favorite spot. There's a gas station/convenience store/U-Haul rental/restaurant on the highway between Winnipeg and Saskatoon called Choy's. It serves the worst deep fried out-of-the-freezer Chinese food I've ever had, but it's strategically placed between the two cities so that you're just getting hungry as you pass by. And there's nothing else for miles, so we eat there every damn time haha. The joke is "we have no Choy's (choice)". My favorite spot though is for sure at my parents' house when we roll through my hometown of Saskatoon, Saskatchewan. Other than that, I like to take recommendations from locals. They know what's good in their town.
iPhone, Android or Blackberry and why?
None. I'm already a compulsive email checker, I don't need a device in my pocket to distract me from practice/work/social interaction!
Tell us about everything that is currently going on with Derelict at the moment…
Well, we just did an short Canadian East Coast tour which was amazing. We're starting to write the next album and are booking shows in the meantime. Our next show coming up is the Woodstock Funfest on September 29th. That's gonna be an awesome time!
Derelict's new album "Perpetuation" sounds like you've ramped up and made things more extreme. Did you have an overall goal for how you wanted the album to sound?
I had two goals. The primary one was to learn something new for every song. Each track on Perpetuation has at least one drum part that I had to break down limb by limb and reconstruct. I have lots of ideas in my head that my body just can't do right away! I also like to write drum parts on computer software that sound impossible to me, then try to learn them. I find it's a great way to challenge myself.
The other goal was to have the drums sound more natural than our previous record. There's a lot more of 'me' on Perpetuation and I love the way it sounds.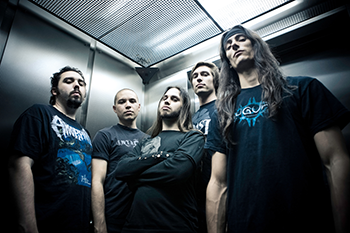 What was it like working with Cryptopsy guitarist Chris Donaldson as a producer and what approach did he use for you when tracking drums?
Chris is awesome to work with. He's super chill but professional at the same time. And he won't let you get away with a less than perfect take. After a long day in the studio, it can be tempting to say "Good enough…". Chris never let me get away with that, and I'm thankful for it!
What are some of the distribution and promotional tools you've used to get "Perpetuation" out there?
We do most of our promo online through Facebook, Bandcamp, CDBaby, etc. Lately we've been hitting the streets a bit more and handing out cards with free download links at big shows when they come through town. We're currently working on a strategy to have a network of people across Canada who will hand these cards out in their own towns. It's a work in progress but I think it will pay off.
Stay up to date and follow Jordan!
Check out Jordan's YouTube channel!
Derelict on Facebook
Jordan on Facebook
Check out Derelict's website: