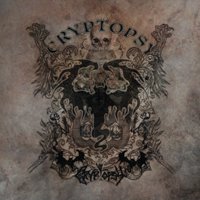 Cryptospy's Flo Mounier!
Thanks for doing this interview with us, Flo. You are regarded by many as one of the most important and influential extreme metal drummers in the scene. With that in mind, if you could offer one piece of advice to up-and-coming players, what would it be?
Be creative! Learn and listen different styles of music, and learn and listen to different teachers. Develop your own style based on diversity.And thank you for the kind words.
You are a veteran of many clinic tours, and you also have released the instructional DVD, "Extreme Metal Drumming 101". Tell us a bit about these activities. How did you get into teaching and doing clinics, etc?
I did my first Clinic/masterclass at the Montreal drumfest in 2003. I prepared what I thought might be cool, a few Cryptopsy songs and a drum solo. It was my first time and a very prestigious event so nerves were on high!! It went really well and people seemed to enjoy it a lot so I decided that I could then do more clinics and discuss technique, all that good stuff.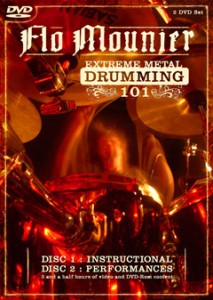 Pearl was very supportive of me doing more since there seemed to be a demand, also Roland got on board so that I could showcase the skills on an electronic kit. It just took off from there. Then I released my DVD which seemed to be enjoyed as well, and the demand grew.
I love doing clinics, its a lot of fun and if one person can leave with some useful information then I am thrilled.
Can you tell us about your association with Roland, playing with electronic kits/kit elements, etc? How do you integrate that stuff into your playing, and how does it differ to acoustic drums?
Roland has been very supportive of my playing for many years. It's like they want me to put the kits to the test, in speed and power, lol. And we do, their products are awesome, I use the stuff on my acoustic set, like the bass drum triggers, TD 30 brain and SPD sx sampler. I just got back from a Canada-wide clinic run for their new TD 30 product and let me tell you that this machine is awesome!!! The HD of electronic drums!!!
I like to switch it up from acoustic to electronic, sure the feel is different just like an acoustic guitar vs an electric one. Its good to be comfortable on both.
Is there a lot of cross promotion that happens between your clinic activities and Cryptopsy? Do people come see you at clinics and talk about the band?
Yes for sure, I play Cryptopsy tracks at my clinics as well as other projects I am involved in, so there is much discussion about that. It helps the bands get known to an audience that wouldn't have necessarily been into the style.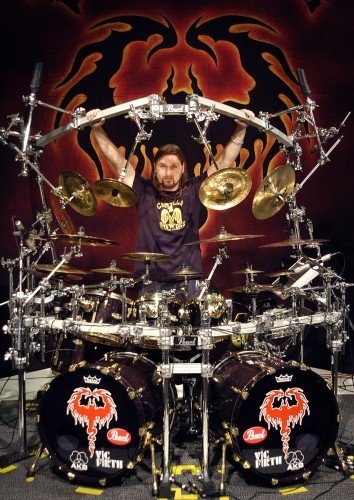 A few gear questions- What kind of pedals do you use?
Pearl Demon chain or Eliminators
What kind of sticks?
Vic Firth Extreme 5Bs.
Do you recommend this stuff for beginners as well as advanced players?
Sure, a good pedal is a good pedal (the same applies for sticks), the thing is, one has to develop the muscles to work the pedal properly and not have to depend on the pedal working for you.
Is there a difference in what people should be using at different levels?
I don't think it makes any difference as long as you are comfortable.
Cryptopsy's new self-titled album is being widely hailed as a return to your 'classic' sound, something between None So Vile and Whisper Supremacy. How do feel about that comparison? Was it intentional?
I believe that it sounds like older material because it was written by Jon and I (and Chris a song or two). Jon and I have been doing this for many years and he wanted to write one more album, so his old chops came out as well as some new elements of course. Intentional no, we write what feels right at the time and that's how we've always done it.
With the return of Jon Levasseur on guitar, the Cryptopsy lineup now features an even mix of new blood and original members. How do you feel about playing with this lineup, how does it compare to past incarnations?
It was great playing with Jon again because we have good musical chemistry. I believe the other members of the band are the most talented bunch that the band has ever had.
Will the line-up stay the same? It would be like going back to the early 90's and ask Chuck that…
There a few tastes of jazz and lounge music on the new album. Are these styles that influence your playing? Do you practice jazz outside of your metal routines?
Yes I do try to dabble in jazz and more so recently.
We have always mixed different styles of music into the Cryptopsy writing melting pot and this release is no different. The elevator (lounge music) was just a joke sandwiched in between two very heavy parts.
You have mentioned in the past that certain Cryptopsy records, before having Chris Donaldson at the dials, were recorded without a metronome. Are you now using one in studio? If so, what do you prefer, and why?
Yes everything before Once Was Not was done without a click track. I sooo much prefer using a click track, it's just right. This very extreme and technical music has to be on, and using a metronome insures us that it is. What we did for the last record though, to create a more natural feel, is pre-production with tempos we played the songs without metronome then base an average click tempo on all the individual riffs. This gave it a way cooler feel but always on time.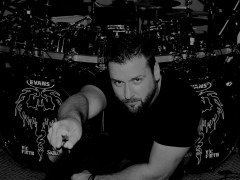 Do you recommend that drummers practice with a click, why/why not?
It's a must! If you ever want to gig as a professional drummer you must learn proper time. Plus it's indispensable for practicing and is a great way to monitor your progress, especially if you want to increase your speed playing.
The new album sounds very modern and clear, but also retains that old school grit and wildness that your band is known for. Is having Chris as a producer an asset? How much do you guys discuss sound as a band, and how much to you leave him to work it out?
Chris has an amazing ear!!! Not only is he one of the best guitar players I have ever worked with, he is also the best Metal producer in Montreal. Sound is very important and we discuss the importance of hearing all the musicians but keeping it brutal at the same time. Not an easy task for something so busy and noisy as Death Metal. He pulls it off every time!!!!
A huge asset to the band!
Who are some other interesting drummers that people should check out? These could be your personal influences, or just recommendations for cool styles and technique.
Dennis Chambers, Heracio Hernandez, Todd Sucherman, man the list is sooooooooooo long that I would need all day to write it out. I respect and get influenced by so many drums it's not even funny!!! Like Gene Hoglan and Sean Reinheart and Randy Black and so on and so forth. Name them all, I dig something they do FOR SURE!!!!
If you have any final words, or anything you suggest people go check out, fire away.
Final words are thank you all for the ongoing support, very appreciated, see you on tour hopefully!!!
Flo, thanks so much for taking the time to sit down and share a little about what's going on with you and Cryptopsy!
Stay up to date on Flo, Cryptopsy tour dates, clinic dates and what's happening with his various projects!