Metal Drumming Mastery sits down with Bryan Newbury from Into Eternity and Death Toll Rising.
Bryan, thanks for taking the time to sit down with us! You are a busy guy these days with the various projects you're involved with, and I'm sure we could spend all of our time talking about them, but tell us a little about you and how you came to be the drummer you are today. How long have you been playing?
I have been practicing and playing drums since I was 15, so ten years in total.
Did you take lessons? How long?
I have never taken any formal training although it is something I really would like to explore to improve my technique and understanding of theory, time signatures and polyrhythms. I have learned through purchasing instructional videos, talking to professionals and watching musicians perform live.
How much do you practice every day/week?
When I am at home in Edmonton I try to practice to a metronome several different warm-ups and exercises an hour or two a day, but sometimes life and work get in the way of that, ha ha. I rehearse with many different musical projects throughout the week, so essentially I play a 2-5 hours a day. I feel it is important to spend a good amount of time practicing by yourself with a metronome and a certain amount of time jamming with others, with or without a metronome to develop your feel and ability to perform in a group situation. If you only do one or the other, the latter often needs work.
Who is/are your fav/most influential drummer(s)?
Well there are many many great drummers out there who blow me away for sure. Everybody makes fun of him but I do have to say for the first year of my playing all I did was play Metallica songs. Lars' playing on the first 4 albums especially, are well written and inspired in my opinion, it really was a great way to start out as a beginner metal drummer and was a gateway into heavier, faster bands like Slayer, Pantera (important to mention Vinnie Paul here too) and Megadeth. I would definitely have to say that all I knew was thrash for the first few years of my playing. As time went on I was introduced to many different forms of metal, extreme, death, brutal, grind, tech, prog, whatever you wanna call them. As far as my top influences go now to name a few I would have to say Gene Hoglan, Hannes Grossman, Alex Grind, Flo Mounier, John Longstreth, Neil Peart. The reason why I chose Gene first is because not only is he bad ass as fuck and the coolest kat around, but I feel that my style most closely resembles that of his. I like to play groovy and hard hitting, rooted in thrash and I like to blast from time to time. And lets face it, it would take a lot… and I mean A LOT of practice for me to achieve the style of playing that the other guys listed have achieved, maybe one day, haha.
How has YouTube affected how you promote yourself as a drummer?
I think YouTube is a great way to show the world your band's or your playing, I have used it to promote my bands and projects and some of my performances as well. I feel that it hasn't really affected my approach to promoting myself or my music. It has made it easier to show people what you look and sound like from far away but the most headway I have made at networking or doing business has always been through playing live concerts, going to live concerts, meeting new people and hanging out. That aspect of the business has always remained strong. I feel you can build a better relationship with fellow musicians and people in the industry by meeting them face to face instead of behind a computer screen. (Editor's note: "Well put!")
Any tips for aspiring drummers on how you developed some of your technique for double kick speed and doing blast beats?
The best way to build endurance and speed for double kick and blast beats has always been slow steady controlled practice. I am not by any means the picture of technique and discipline, but I do know what it takes to get those speedy parts tight and solid. Practicing single and double strokes with a metronome on a pad for finger technique and on pillows for my wrist technique has always been a mainstay in my practice routine. Wearing leg weights and playing with boots on, also practicing to a metronome singles and doubles for my feet has always had the same effect. As I once heard Derek Roddy say in one of his videos, "There are no short cuts to playing extreme music, it just takes time and lots of it."
What kind of pedals do you use?
Pedals? I like a lot of different pedals, I have tried many and I find I gravitate towards heavier style pedals that hit hard. I don't always use triggers but when I do a lighter pedal is okay. I still prefer one that kicks and takes effort to use. My favorite since the beginning has always been the Iron Cobra double chain drive pedal. My dream is a set of Pro V one or TRICK single direct drive pedals. They are killer and priced as such.
[one_half]Sticks?
I have been all over the map with sticks since my early years of drumming. Right now I am playing Vic Firth 5A's backwards like Vinnie Paul, but I'm sure that will change, I just dig how solid the strokes are when I play my sticks that way.
What is currently on your iPod and constantly playing?
I have an iPod but I never use it, I like buying new and old albums and reading the booklets. The new Testament record kills, the new Fear Factory rules, stoked to own the new Cryptopsy, the songs I have heard so far are amazing. I really like all music, I like listening to my girlfriend's prog band with my guitar player from Death Toll Rising, they don't have a name yet but their recording sounds like Dev Townsend meets Dream Theater meets Opeth.[/one_half]
[one_half_last]
[/one_half_last]
What is the best way to pass time on the road?
The best time way I kill time on the road is to practice, work out, clean the RV, read and get as much sleep as possible because you don't get much rest on the road. The only way to stay healthy and away from sickness is to eat well, drink tonnes of water and take naps whenever you can otherwise you get run down and you burn out hard.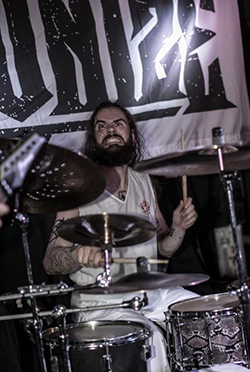 Favorite TV Show?
I don't often have time to watch TV but in the evenings Sophia and I watch Big Bang Theory, Game Of Thrones and Ancient Aliens!
Favorite movie you've recently seen?
Go see The Legend Of 1900, it's a good flick.
Favorite book or comic you're currently reading?
Currently reading Autobiography of a Yogi, it's an amazing true story.
Favorite spot to eat on the road?
I like good sushi spots whenever you can find them, it's hard to eat healthy on the road, haha.
iPhone, Android or Blackberry and why?
I've had the same flip phone for 9 years, I love it and I don't look forward to the day I have to convert.
You are currently in a number of other bands on top of Into Eternity, including Edmonton's Death Toll Rising. Please tell us about that and about any other projects you're involved with.
DTR is currently working on our second full length album, I'm really excited about the songs, they are coming together nicely, a mix between traditional thrash with progressive and technical elements from bands such as DEATH and Strapping Young Lad.
Any final words or advice to drummers working on their playing?
My best advice to drummers out there is to find your style or your niche where you feel comfortable and build on that. Don't focus too much on what others are doing, do the best at what YOU do best. Practice your ass off, then practice some more, listen to and go see bands that inspire you and bring that into your own playing and your musical endeavors. Try your hardest and most of all beyond anything else HAVE FUN! Stay cool brothers and sisters.
Stay up to date with Bryan and what's happening with Into Eternity and Death Toll Rising!