Programs currently in development
At Metal Drumming Mastery™, we are constantly working to develop new and interesting programs that will meet the needs of hard hitting drummers who want to excel!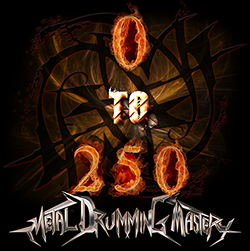 0-250 Training Program for Hands
Second in the series of the 0-250 Training Systems, "The Fastest Way To Get FAST!!!"™, this course focuses exclusively on hand development. Not only outright speed, but control, endurance and dynamics is developed as well. And like the Kick Program, this course is undiluted- Right to the skills development. No fluff.
In this course, you will learn-
The importance of understanding the difference between slow-twitch and fast-twitch muscles, and how to develop each group so that they add to your speed and endurance, not take away from it.
Why practicing on a pillow is not only a waste of time, but may actually be slowing down your progress! Seriously.
Metric modulation, and how to create and implement interesting sticking patterns.
The specialized, 20-minute practice routine that will make you faster every day for 60 days straight, minimum!
The one thing you MUST NOT do while playing, in order to avoid potentially causing permanent damage to your wrists!!!
The one piece of playing gear you can use that will add endurance, reduce fatigue and speed up recovery time for your wrists and forearms after an intense playing session.
The Moeller Method- Fact or Fiction? While this is a legitimate technique, don't get sold on the hype of believing it's a "secret technique" that will suddenly make you faster!? Too many drummers who talk about this technique don't actually understand how to apply it.
Proven regimen of exercises that will develop killer speed, control and power, as well as everlasting endurance…quickly!
The Russian training technique that will give you results in weeks and months, instead of years and years.
The one thing you MUST do every time you play, if you want to see massive gains in your speed, control and power in the shortest amount of time!
0-250 Training Program Around The Kit
Rounding out "The Fastest Way To Get FAST!!!"™ series of training systems, Around The Kit is a no non-sense training system for developing speed, accuracy and power- But more importantly, how to apply it to your song playing and soloing around the kit. Playing drums is not about how fast you can play…any drum machine can do that…but once you have developed the speed, now we need to add some style! This program works on developing style and groove, writing drum parts for song playing and 4-limb independence…but how to play it FAST!…when the song or part calls for it…and how to do it with surgical accuracy.

Drum Fill Matrix System
Feel like your stuck in a rut? Tired of always having to rely on your "fall-back" drum fills? Do you listen to some of your favorite bands and wonder how those drummers came up with those patterns? Then the Drum Fill Matrix System is your answer!
In this course we cover, among other things-
Song writing and how create drum parts/fills that fit with the music.
Drum patterns that are easy to play but sound difficult.
4-limb independence and coordination, including syncopation and polyrhythms.
A simple matrix system that will allow you to create literally 1000's of unique fills, many of them on the fly!
The Beginner Series
In line with the style of the other training systems developed here at Metal Drumming Mastery™, The Beginner Series training system is intended for just that- The Beginner. This program is all about setting you up with the proper techniques and practice routines right out of the gate, so that you can attain in months what it will take others many years to achieve! This is NOT to suggest that there is any one "magic pill" or grand secret to getting good on the drums! Not at all. It's going to take work, and it's going to take dedication! But I'm sure you are familiar with the phrase, "don't work hard, work smart!" That credo applies here as much as it does anywhere else! The problem, is that too many drummers…especially these days, with the instant availability of SO much material on networks like YouTube…can easily waste hours and hours sifting through all that material, and then waste years and years struggling with the ineffective techniques they picked up.
The Beginner Series will show you-
How to go from picking up a pair of drum sticks for the very first time, to playing your favorite songs in 3 simple steps.
Basic music theory, in a simple and understandable way.
How to learn songs and play by ear, even if you don't (or even want to) understand how to read sheet music.
How to avoid the two mistakes that too many new drummers make, stunting their growth and development more than anything else.
How to start creating your own fills and drum parts
The most effective techniques for developing speed, power and endurance on the drums.
1-2-3 Drum Solos!
Every drummer wants to know how to pull off a kick-ass drum solo! But we've all seen solos where we have actually felt bad for the drummer, haven't we? That's not to be mean, it's just a simple matter-of-fact that many drummers suddenly become shy and freeze up a little when we're put onto the center stage! Pulling off a great drum solo, really, comes down to one thing- Confidence. You don't need to be a shredding drummer with insane skills and chops like a pro in order to lay down a solo that will have everyone on their feet chanting and cheering! The problem, is that while there are countless examples of great solos out there, there are few examples of how to actually build a solo from the ground up!?
This program will show you, step-by-step, how to create killer drum solos from scratch that have groove and punch, even if you have only just started to play the drums!
A simple 1-2-3 system for creating solos from scratch that sound totally pro.
Some core, essential grooves that are actually rather easy to play, but both look and sound impressive to your audience.
A simple, executable matrix for developing original solos, even on the fly.
The most common mistakes that rookie drummers make, causing their "solo" to sound totally amateur. This is a mistake that even seasoned drummers make, that is COMPLETELY avoidable!!..and simple to fix!
We break down and show you exactly how some of your favorite drummers are executing some of their favorite moves while soloing.
The 1-2-3 Drum Solos system will show you a simple, executable and repeatable way to create fun and engaging solos every time, whether you are a brand new drummer or have been playing for years!
Interested to learn more about any of these programs? For updates, access to "hehind-the-scenes" content as well as special pre-release offers, we invite you to create your FREE member's profile! In the mean time, head over and "like" the Metal Drumming Mastery™ Facebook page for exclusive content not posted here on the site!

If you have any questions, give us a call, send us an email, or hit the "Contact Us" tab over there to the right! We look forward to hearing from you!
Here's to your metal drumming success!
Kevan Roy- Founder, Metal Drumming Mastery™